We make next generation programming trainings to help you become
better Javascript dev.
We created a platform that redefines IT education by recreating real work environment and software development processes. Our goal is to fill the gap between learning and landing your dream job.
Nerdbord Hackathon: Frontend + AI, edycja świąteczna
🏆 Zdobądź wieczną chwałę i dołącz do świątecznego hackathonu budując w zespole projekt tematyczny z wykorzystaniem API OpenAI.
Warsztat: Ujarzmij Gita
Opanuj Gita nie posiadając doświadczenia pracy w zespole podczas 2-godzinnego, interaktywnego warsztatu online!
Warsztat: Zbuduj warcaby z DevMentor.pl
Podejmij wyzwanie i zakoduj warcaby podczas tego wyjątkowego i w 100% praktycznego warsztatu z programowania obiektowego.
Warsztat: Opanuj podstawy Reacta
Weź udział w bezpłatnym, interaktywnym warsztacie z React'a i stwórz aplikację webową w pełnym procesie produktowym.
Nerdbord Labs: Bun
Poznaj nową technologię w godzinę i zaimplementuj React SSR oraz CSR używając najważniejszych funkcjonalności Buna.
Nerdbord Labs: Vitest + React Testing Library
Naucz się testować Reacta jednostkowo oraz integracyjnie korzystając z Vitest i React Testing Library.
Coding in Javascript is not enough
Why learning with Nerdbord?
Learning how to code is one thing, but building software in a business driven environment is much more complex. The problem is that popular IT education is not preparing for that.
🙈
Tired of following step by step tutorials?
Learn how to become an independent professional capable of solving problems and tackling real work challenges.
🙊
Want to test yourself in real work challenges?
Wondering if you're ready for work? Test yourself by building projects that are structured exactly like those you would encounter in the workplace.
🙉
Lost in learning materials and resources?
Stop losing time in the endless sea of resources. Get personalized guidance and a clear learning path to reach your goals as quickly as possible.
MEET OUR METHOD
Reinvented learning experience
We transformed learning into a gamified work environment. By taking a problem-solving first approach, we reinforce the immediate application of newly acquired skills essential for software engineer.
Learn Javascript by building apps in full Git process
Nerdbord is your projects source and management tool fully integrated with Github where you work on prepared repositories in full git process according to given tasks.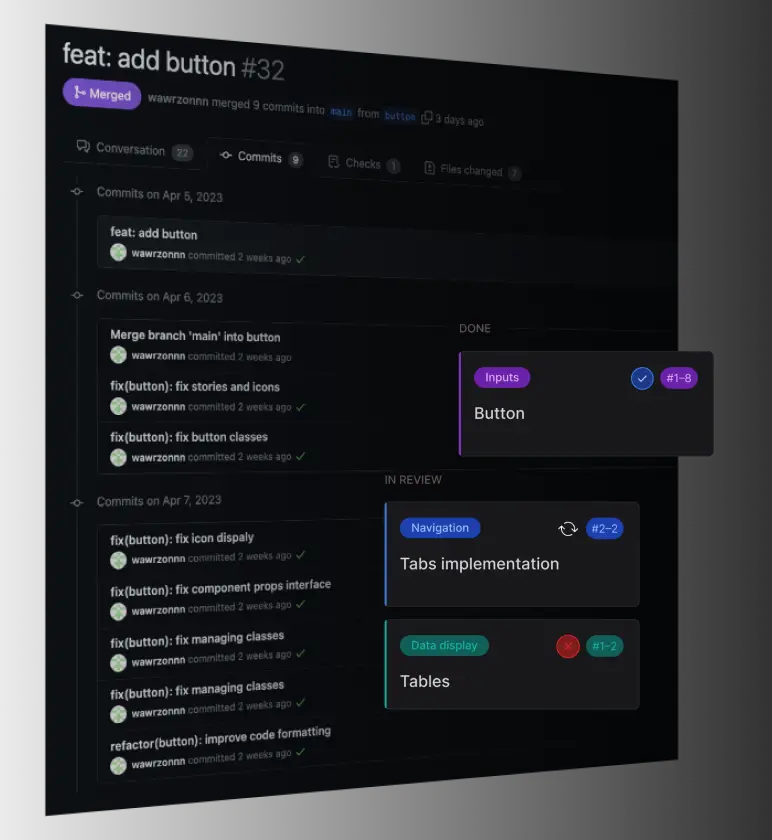 All of your code is instantly reviewed with AI
We're the first learning platform that provides an instant code reviews done by Nerdy – our GPT powered bot. You receive unlimited detailed feedback to all of your solutions right in your Github profile.
Learning with game mechanisms has proven to be the most effective way to keep up the motivation. Your personal, gamified kanban board is a heart of Nerdbord that keeps the learning process fun and engaging.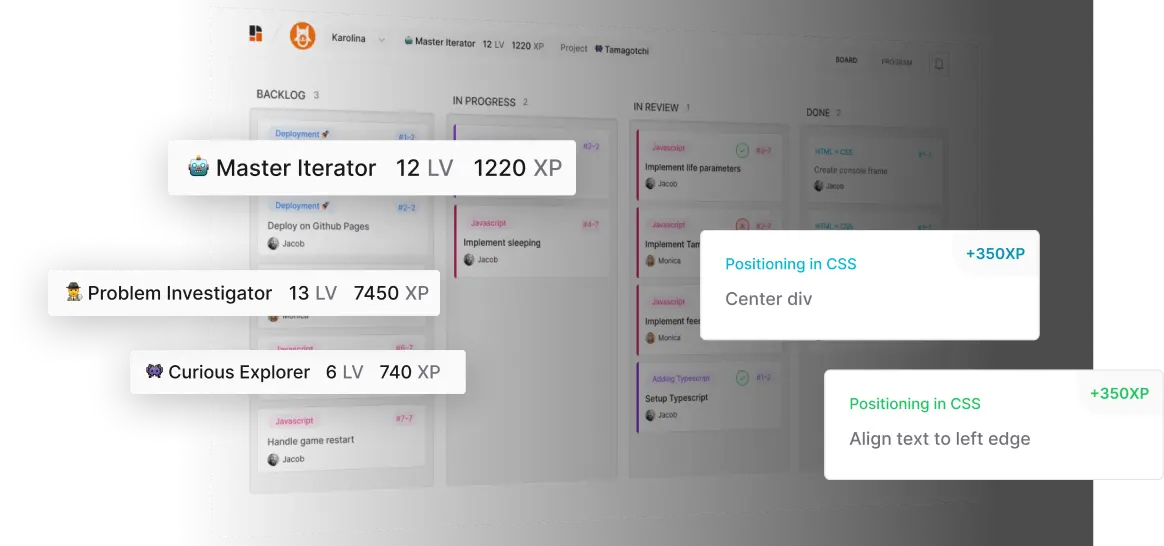 Weekly live collaboration and feedback meetings
Actively engage with your new team and mentor to enhance your problem-solving skills, gain different perspectives, participate in scrum ceremonies and learn from the experiences of your peers and mentor.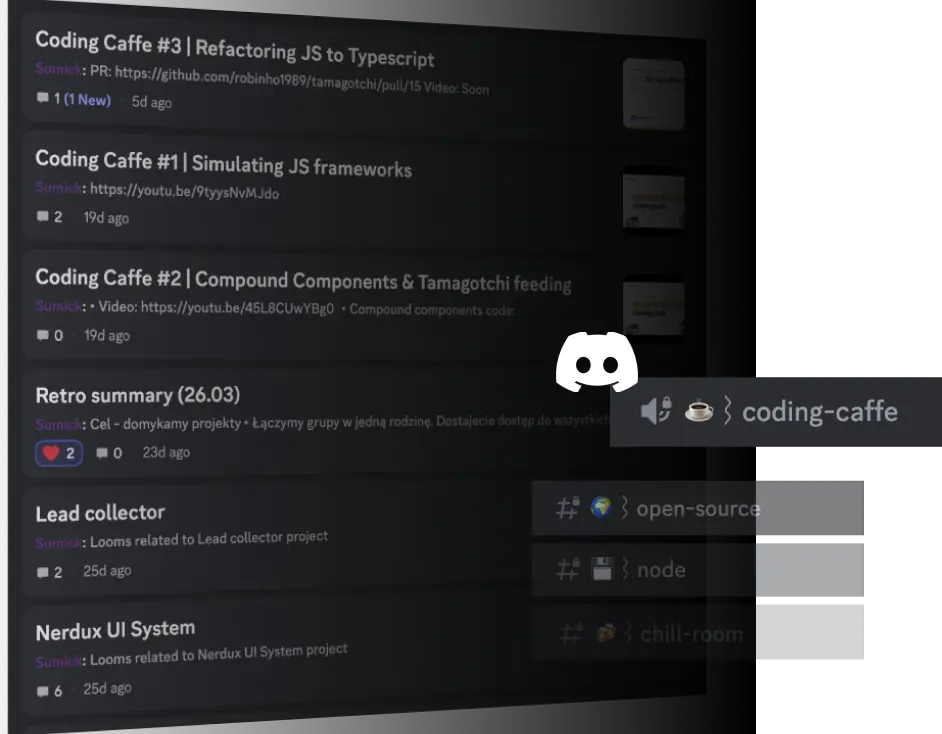 Learn real teamwork on group projects
Experience hands-on learning, enhance teamwork and communication abilities, and sharpen your problem-solving expertise. Prepares for real-world development environments where working in teams is essential for success.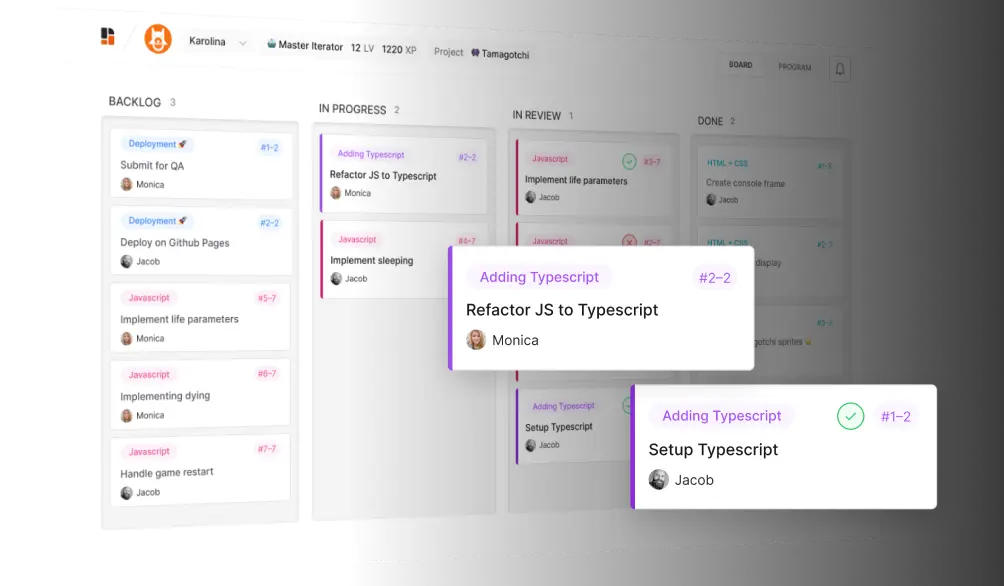 Become a
software engineer


through real project practice.
Are you looking for first work experience?
Do you want to grow as a professional?
Are you eager to practice various frameworks and technologies?
Do you want to build an original portfolio and professional confidence?
Each project gives me new opportunities for development - these aren't just hard skills but the soft ones too. In my case that's mostly communication, in particular asking questions. Since joining, I've made a huge progress, I even forget that once I had difficulty with this. Another thing worth mentioning is the process of preparation to the future IT job: I appreciate retro meetings & team projects to get used to this working style. Right now I'm an individual worker so working in a teams was something new for me.
Build vivid portfolio and fill your Github profile with activity.
Every activity that you do on Nerdbord is visible on your Github profile. Each completed project is another reason to hire you as a professional. Build your expertise with us!
OUR SMALL VICTORIES
Appreciated in competitions
We're proud to be recognized by national conference and tech innovation company.
THOUGHTFULLY BUILT
Projects anatomy
Our projects are carefully crafted based on the modern web development stack and according to the structures used in the best product companies globally.
Programs
Explore our available programs that will bring your skills to the next level!
Projects
Every program consists of projects that are accessible from your personal library. You can have one active project at the time and switch between them freely.
Request group project
Each of the projects you can complete by yourself or request a pair matching to tackle the challenge in pair coding!
Skills
JS areas that you'll train by completing this project.
Workload
Estimated amount of work and difficulty level.
Repository
Prepared GitHub repository that will be copied to your GitHub account and instantly becomes part of your portfolio.
Description
a detailed brief that includes:
What you'll learn
Scope of work
SyllabusTechnical requirements
Assets provided
Description
Each lesson is equivalent to an epic in the Scrum methodology. Depending on the project, it can consist of tutorials, broad topic explanations, or a few sentences summarizing the tasks it consists of.
Tasks
Each lesson consists of group of tasks. With lesson activation tasks are being activated on your board.
Description
Detailed instructions on what is the task about, its goal and specific completion requirements.
Status
Each task must go through all Kanban board states, from Backlog to Done.
Completion requirements
Each task must go through full gitflow process in order to be completed. One of the steps in this process it to get a task review. You can choose between instant AI reviews and manual, mentor review. Whichever you choose, your review is done always directly in your Github profile.
THOUGHTFULLY BUILT
Try out free projects and challenges
You can join Nerdbord right away by logging in via Github and try Nerdbord learning process by completing free projects and free weekly challenges we've prepared for you!
I am fascinated by the entire project. The platform integrated with Github and awesome code reviews. I rate the projects, ideas, and their design a 10. The team spirit within the group is amazing. Everything is a plus. I really like how projects are broken down into individual tasks. The graphics are great, and the idea as well. And most importantly, I am learning new things as I write them. Everything comes together in an awesome way.
I really love project-oriented approach. Until now I was relaying on curses and tutorials, but theory is nothing in comparison to practice. Now i see how many gaps in knowledge and skills I have to fulfill. It slows me down, because I have to return to theory and re-learn many things, but I know it's the best and fastest way to become fluent :)
FAQ
Any questions?
Don't hesitate to contact us with any further questions!
When can I join the Nerdborder Pro program?
What if I'm new to working with Git?
How long do I have to wait for a code review?
What if tasks are too hard for me?
How many review requests can I send per task?
How much time do I have to complete projects?
JOIN OUR DISCORD
Let's keep in touch!
🙌 Become a member of our free community
Connect with other like-minded individuals who are passionate about technology and design. Our community is a great place to ask questions, share ideas, and learn from others!